Photography is an exciting hobby and profession. You tour the world and showcase your abilities to snap memorable images. You can even decide to pick a niche and photograph what you love. However, before you get too excited about the good side of things, there is something you need to know. Becoming a photographer is an expensive affair. If you are serious about it, you will require more than just a camera, a lens, and your eyesight. You will need additional accessories and a commitment to deliver high-quality pictures all the time.
But this should not be a turnoff for you. If it is about snapping great-quality photos, you can learn how to do that over time. Even professional photographers are still learning every day. With experience, you will be able to take snaps that make you feel proud of yourself. Also, you do not have to purchase all the accessories at a go. There is no need to rush. As you grow your skills, you will start realising the need for certain stuff, and that is when you should buy them.
The team at Only Reviews understands the needs of photographers and is committed to availing all the products to make your photography journey profitable. For budding photographers, here is a list of products you should ensure is on your essential purchase list.
DSLR
Photography cannot happen without a camera. And because you are just starting out, but are taking this art seriously, you need a high-quality camera – the DSLR. It is probably what you will spend most on when it comes to purchasing a single photography product. As you might know by now, there are those that cost in thousands of pounds. The DSLR cameras come in varieties and have varied prices as well. If you are new to this type of camera, here are some DSLR tips for beginners.
Lucky for you, we have compiled a list of 10 DSLR for beginners like you. We have searched the market and sought help from professions in the industry to create this list of cameras. In case you don't know what you are looking for, consider those that are compact, with features like an easy connection to other accessories. Of course, you want a camera that produces high-quality images and is simple to operate. Don't forget this product has to be within your budget.
Camera Tripod
A camera tripod is a piece of very necessary equipment for photographers. Regardless of the path of photography you have decided to take, you will need it at some point. It does not just give support to allow hands-off situations, but also very important in circumstances where there is low light. You don't want to be shaking when you are in a place with low light, because the quality of snaps won't be that great.
In addition to the benefits above, there are times when you want to take selfie shots. This equipment will make it possible to position your camera, move away from it, and allow it to capture what you need. Because you are just starting out, consider the cheap alternatives to avoid the stress that comes with maintaining an expensive option. You don't want to worry all the time about breaking it. And since you'll be carrying this item wherever you go, ensure it is lightweight enough to move around with it without tiring.
Remote Shutter Release
Talking about tripods that enable you to take photos, you want to be in, you need something that can operate your camera from a distance. A remote shutter release will make it possible to take pictures without you physically touching your camera. It does not necessarily have to be you in the photo. To avoid shaking the camera during use, this device can come in handy to give you that wireless touch on the shutter for a still image. With it, you won't have accidental blurring that you might be experiencing as a new photographer.
The type of remote shutter you pick will depend greatly on your budget. Some have long codes, while others use Bluetooth connectivity. Some integrate features like LCD screens, timers, and half-press capability as well. You need to buy this item according to the brand of camera you might be having.
Photo Light Box
You won't have access to natural light all the time, but technology improvements in the industry make it possible to attain high-quality photographs in such situations. A photo light box is one such product development that will make your work look professional even if you are just starting out, and are in a poorly lit place. You will have to set it up properly for great outcomes. This device will help you attain the best images with all the colours done well – closest to the real thing.
Our teams have spent hours on end with photographers, and come up with photo light boxes that are suitable for beginners. The important things we've put into consideration are the prices and the quality of photos it is capable of producing. You also want to look for a photo light box that is easy to assemble and carry around.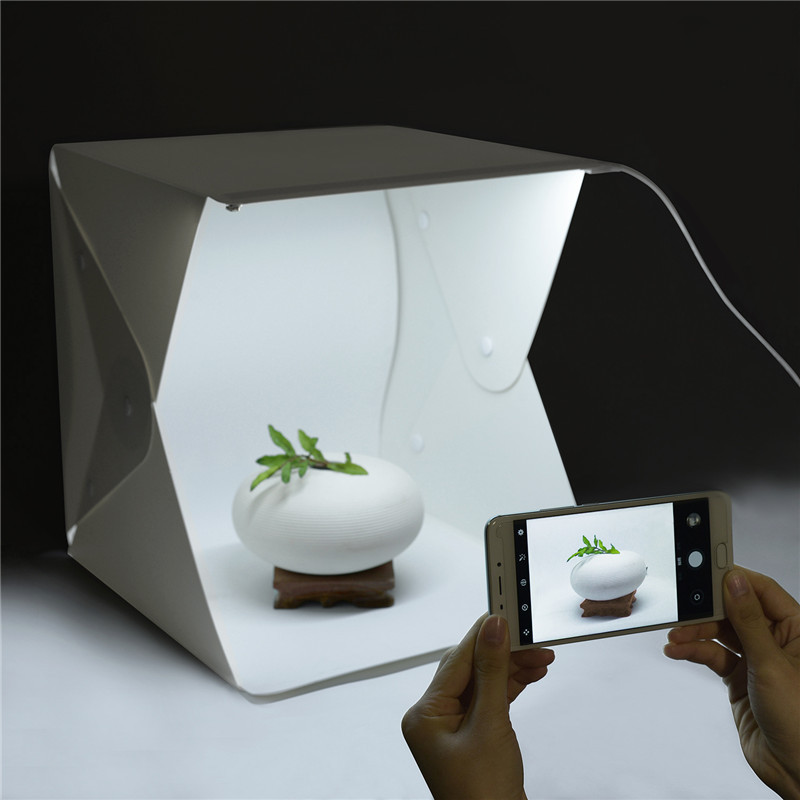 A Camera Bag
Moving around with your expensive DSLR camera is not easy, even if it is portable. Safety concerns always ring in most photographers minds. That is why you need a good bag that will carry your camera and other accessories. This carrier must have the proper cushioning on the inside to avoid scratching and damaging parts of the camera during movements. You don't want to bump into someone and your camera drops on the ground, and you are left to start from scratch again. It also must have compartments for most of the accessories you want to carry. The bag needs to accommodate other equipment like memory cards, filters, lenses, flashes, batteries and the rest. A good photographer's bag needs to consider all your necessities.
External Flash
Here is a free photography lesson: Do not use the in-built flash to take photos. They won't turn out great. Anytime you want to involve light in your photography, ensure it comes from a different source. Even just a few inches away from the camera – like in the case of an external flash – will make a big difference. This light is also known as a speed light and come in a variety of qualities and preferences.
Depending on how much you are willing to spend on this product, you can get anything from stationary speed lights to tiltable external flashes. The second option is the best because you can aim the light in the direction you need it. The good news is that these products are not expensive. By making a little sacrifice, it is possible to get the best of qualities in the market.
Batteries and a Charger
External flashes can take a toll on batteries very fast. It is really bad to pull out your Speedlight and discover the batteries are dead. Therefore, get several of them and make sure they are rechargeable. Meaning, you will need a battery charger as well. What you should choose for a charger is one with double the slots you are using to power the external flash. On your busiest day, you still want a constant supply of power without resting.
Lenses
Sooner or later, you will discover why professional photographers have a plethora of lens in their achieves. They help to achieve the required shots during photography. But because you are just a novice photographer, you will be fine with a prime lens. This one does not zoom. Why would you choose such? You are still learning the skill of photography, and getting this one will teach you various composition skills you would never learn with the lens you can zoom. Take it as a challenge to grow, and you will be impressed with how well you grow in your technique.
The lens can be an expensive investment. Therefore, find one that suits your budget and is flexible enough for your needs.
Camcorder
A good photographer will want to hone their video recording skills as well. You, therefore, need to get a camcorder. It can also be useful to act as a backup in place of your DSLR. Sometimes you will need to experiment with your skills underwater, and the camcorder will be a partner in all these expeditions.
The right camcorder for you as a beginner won't cost you thousands of pounds. Our list of seven best camcorders has very affordable options that can produce high-quality results for any budding photographer. There are plenty of manufacturers of these products, and some notable names include Sony and Panasonic. Consider things like the clarity of the images, zooming abilities, the capacity to sync with other equipment, sound clarity, additional accessories, among other features.
As a budding photographer, there is plenty of things ahead of you to learn and buy for a successful career or hobby. Remember that you can buy these things one by one as the need arises. It won't take long before you become skilful and ultimately a reliable professional photographer.